AHBIC Industry Update 36 – 413 days of response
10 August 2023
Varroa Response Update The current infected premises are sitting at 199. These 3 new IP's are RED zone detections in Salt Ash, Cooranbong and Narara. The detection in Salt Ash […]
Varroa Response Update
The current infected premises are sitting at 199.
These 3 new IP's are RED zone detections in Salt Ash, Cooranbong and Narara.
The detection in Salt Ash is deep in the Newcastle RED zone and highlights the importance of the community reporting of all hives and their locations to DPI.
The additional Cooranbong detection is a result of first round surveillance in the area and is low numbers of mites. There is no change in the zones associated with this IP.
The Narara detection is within the Central Coast RED zone, has been identified by data updates, was sampled by DPI prior to being euthanised. There is no change in the zones associated with this IP.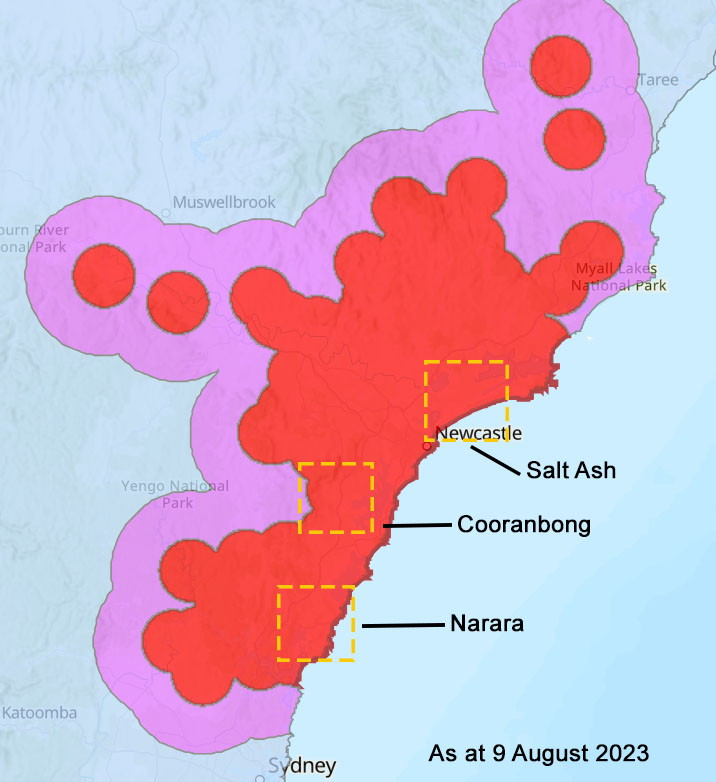 CCEPP
The CCEPP met on the 31st July to discuss the triggers that had been breached by the most recent detections.  A presentation from the DPI provided detailed information to the 26 parties about each trigger breach and technical feasibility.  As a result, the CCEPP has recommended that it is still technically feasible to eradicate but have requested further information as to the budget implications of the new detections.
AHBIC understands beekeepers across the country are experiencing stress and fatigue associated with the incursion and we acknowledge that there are unique challenges for all beekeepers regardless of the area you are operating from.  AHBIC receives and responds to industries concerns regularly, we welcome and encourage vigorous discussion and understand that some members of our industry are uniquely affected by the incursion and the eradication effort.
The decision making process that underpins eradication is well documented and the response is following the agreed national response plan. It is still vitally important that industry keeps up to date with the situation through points of truth and that each one of us understands how to contribute to and come together in a common goal to eradicate varroa from our shores. We have the best chance of success when we maintain industry wide collaboration and cooperation.
Changes to reporting alcohol wash results
Since 31st July the Emergency Order now requires NSW beekeepers to complete their mandatory alcohol washes at least once in every 16-weeks AND report to DPI WITHIN 7 DAYS OF COMPLETING the washes by filling out the online form at https://forms.bfs.dpi.nsw.gov.au/forms/13537 or calling 1800 084 881.
Interstate Movement Guidelines
A recent guideline has been developed to assist beekeepers with reaching all jurisdictional requirements and maintaining correct paperwork and compliance with the current situation. This page will be updated as often as required to include any changes. Beekeepers are reminded to continue to stay abreast of their obligations within the state you are operating. To view the page, click below:
https://honeybee.org.au/ahbic-interstate-movement-guidelines-27-july-2023/?category=Industry%20Hub
 Beekeepers in Red Zones
It is very important that all beekeepers who have hives in the RED zones do not move them from their current location, if you haven't already, please report hives and apiary locations to the DPI by filling out the online form at dpi.nsw.gov.au or calling 1800 084 881. DPI will make contact with registered beekeepers in newly declared red zones to provide further information on what changes now affect you. Any beekeepers wanting to retain their hive ware in the recently declared red zones need to let DPI know as soon as possible.
Beekeepers in Purple Zones
Bees, hives and equipment must not be moved out of the PURPLE zone, if you haven't already, please report hives and apiary locations to the DPI by filling out the online form at dpi.nsw.gov.au or calling 1800 084 881, you must apply for a movement permit through the DPI before any purple zone bee or equipment movement is made, DPI will conduct a risk assessment of the proposed movement and provide you with the details of the result.
A permit application form can be sought from the DPI website or by contacting Brett Kerruish brett.kerruish@dpi.nsw.gov.au or 0427 239 569. All registered beekeepers in the PURPLE  zone are required to conduct an alcohol wash at least once in every 16-week period, and report using the online form www.dpi.nsw.gov.au/alcohol-wash or via Hotline 1800 084 881.
You can reach out to AHBIC via:
Varroa Coordinator
Bianca Giggins bianca@honeybee.org.au
0402 467 780