AHBIC Industry Update 25 – 311 days of response
28 April 2023
Varroa Response Update The total confirmed infected premises is now 153. DPI surveillance and tracing strategies continue to target hives that with a high risk status these can be a […]
Varroa Response Update
The total confirmed infected premises is now 153.
DPI surveillance and tracing strategies continue to target hives that with a high risk status these can be a mixture of RED, PURPLE and BLUE zone locations across the state. A number of field crews working across the state has resulted in several hundred mats reaching the laboratories over the last week.
1 new IP at Rothbury, within the existing RED zone of Newcastle/Hunter, has been identified which will extend the RED zone slightly west of Rothbury, but thankfully does not result in any changes to the PURPLE or BLUE zones.
Operations continue to focus on first round surveillance of the PURPLE zones, which is on schedule to reach expected completion mid May.  The cooperation of industry and the community is vital in helping the response achieve the goal of eradication.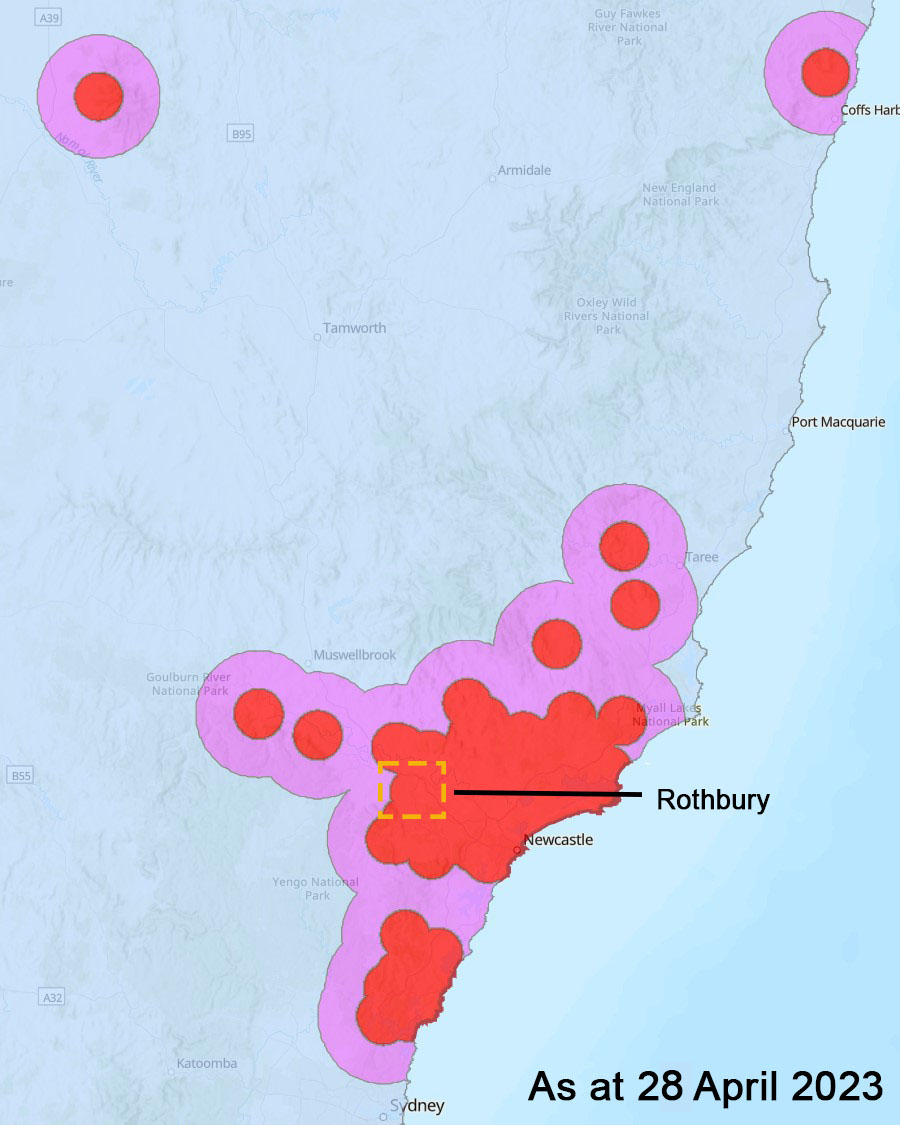 Victoria and Queensland Borders 
Both Victoria and Queensland border's are now reopened to New South Wales BLUE  zone beekeepers via a strict permit system in all states.
Beekeepers within the BLUE zone who wish to move bees or hives into VIC or QLD must apply for a permit from each respective State Department before moving hives, in addition to submitting the NSW DPI movement declaration form.
Alcohol Washing and the NSW Emergency Order
Alcohol washing is a quick and effective method for detecting the presence and monitoring the level of Varroa mites within a honey bee colony. Alcohol washing can remove over 90% (with multiple rinses of the sample) of external Varroa mites present on adult honey bees.
AHBIC reminds NSW beekeepers that you are still required to complete and report your 16 week alcohol washes to the DPI through the website. This is a requirement of the Emergency Order in place in NSW.
The requirement in NSW depends on the number of hives at each apiary site:
Less than 26 hives at a site – alcohol wash all hives at that site.
More than 26 hives at a site – alcohol wash 26 of your hives at each site.
Wild European Honey Bee Management
The euthanasia of wild European honey bees in RED zones is a key component of eradicating Varroa mite.
To remove Varroa mite from the RED zones it is vitally important to remove the European honey bee host. There are approximately 550 deployed and operational wild European honey bee feeder stations cross NSW RED zones. It is also of great importance to note that the WEHB team aim to have all stations in RED zones in NSW active and ready for spiking by 26th May. The amount of work and dedication to have this achieved is a remarkable effort. For more details visit the WEHB website.
 Compliance Continues
NSW DPI continue to engage the help of NSW Police to assist with any non-compliant activities, this includes on the spot fines of up to $2,000 for those transporting bees without appropriate documentation on their person. As movements of hives pose a risk to the success of eradication, declarations and permits allow for critical traceability.