AHBIC Industry Update 38
22 August 2023
Varroa Response Update The current infected premises are sitting at 210, these new increases are due to DPI surveillance activities. Additional infected premises have been identified in the newly gazetted […]
Varroa Response Update
The current infected premises are sitting at 210, these new increases are due to DPI surveillance activities.
Additional infected premises have been identified in the newly gazetted Kempsey RED zone.
Locations since the last update include:
two in Aldavilla,
three in Dondingalong
two in Kempsey
two in South Kempsey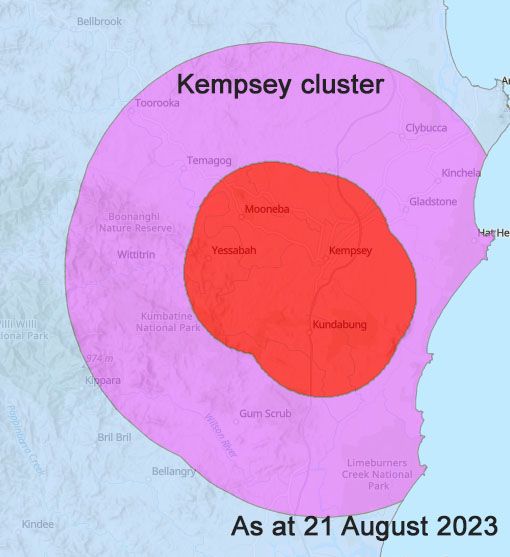 The Kempsey RED and PURPLE zones have extended slightly east, west and south from each of the new detections. DPI Surveillance and tracing continues in and around the Kempsey cluster.
People can report apiary, wild colony and swarm locations to the DPI by calling the hotline 1800 084 881 or adding directly to the form on the DPI website https://forms.bfs.dpi.nsw.gov.au/forms/12288
Informing the DPI of hive locations assists in speeding up the process of gaining a comprehensive understanding of the situation.
NSW DPI Surveillance teams and Wild European Honey Bee Management teams continue to conduct ongoing operations across the state. Surveillance teams are active across Nana Glen, Kempsey, Tocal, Ourimbah, Northern Sydney Basin and the Riverina/Sunraysia regions. No other detections of Varroa have been identified from the surveillance activities of the NSW DPI in other areas of the state.
DPI Community meeting invitations have been sent to affected beekeepers in Gumble and Kempsey regions. If you are a beekeeper in these areas and have not received correspondence from DPI you are encouraged to call the hotline 1800 084 881.
You can reach out to AHBIC via:
Varroa Coordinator
Bianca Giggins bianca@honeybee.org.au
0402 467 780