AHBIC Industry Update 32 – 386 days of response
13 July 2023
Varroa Response Update The current infected premises are sitting at 190. Important information is being collated for the CCEPP to assess technical feasibility for the response as new infected premises […]
Varroa Response Update
The current infected premises are sitting at 190.
Important information is being collated for the CCEPP to assess technical feasibility for the response as new infected premises have been identified in Sackville North west of the Central Coast complex and in Gumble in Central West NSW.
DPI surveillance and tracing of the recent Central Coast extensions lead to the discovery of an infected premise in Sackville North. It was found that in April this year, a beekeeper conducted a legal BLUE to BLUE hive movement from Sackville North out to Gumble. Due to the swift action from surveillance teams, the laboratory has confirmed 1 mite on a single mat from the Gumble apiary.
RED and PURPLE Emergency Zones have now been established surrounding Gumble.
DPI will continue with intensive tracing of all cases connected to the new RED and PURPLE zones in and around Gumble.
Check the DPI map here: Varroa mite emergency response (nsw.gov.au)
Compliance of all beekeepers is important across all areas of the declared zones to ensure that the response stays on track to eradicate this devastating parasite from Australia.
AHBIC reminds beekeepers no movements are permitted within or out of the new Gumble RED zone, and no movements are permitted without permit in any PURPLE zone including the new Gumble PURPLE zone. NSW DPI have engaged the help of NSW Police to assist with any non-compliant activities, police are actively patrolling the Gumble RED and PURPLE zones, they are able to issue on the spot fines of up to $2,000 for those transporting bees without appropriate documentation on their person.
There are additional Infected Premise's in the Newcastle and Central Coast areas and they are in:
Bandon Grove
Main Creek
Rathmines
Wyee
Ourimbah
Sackville North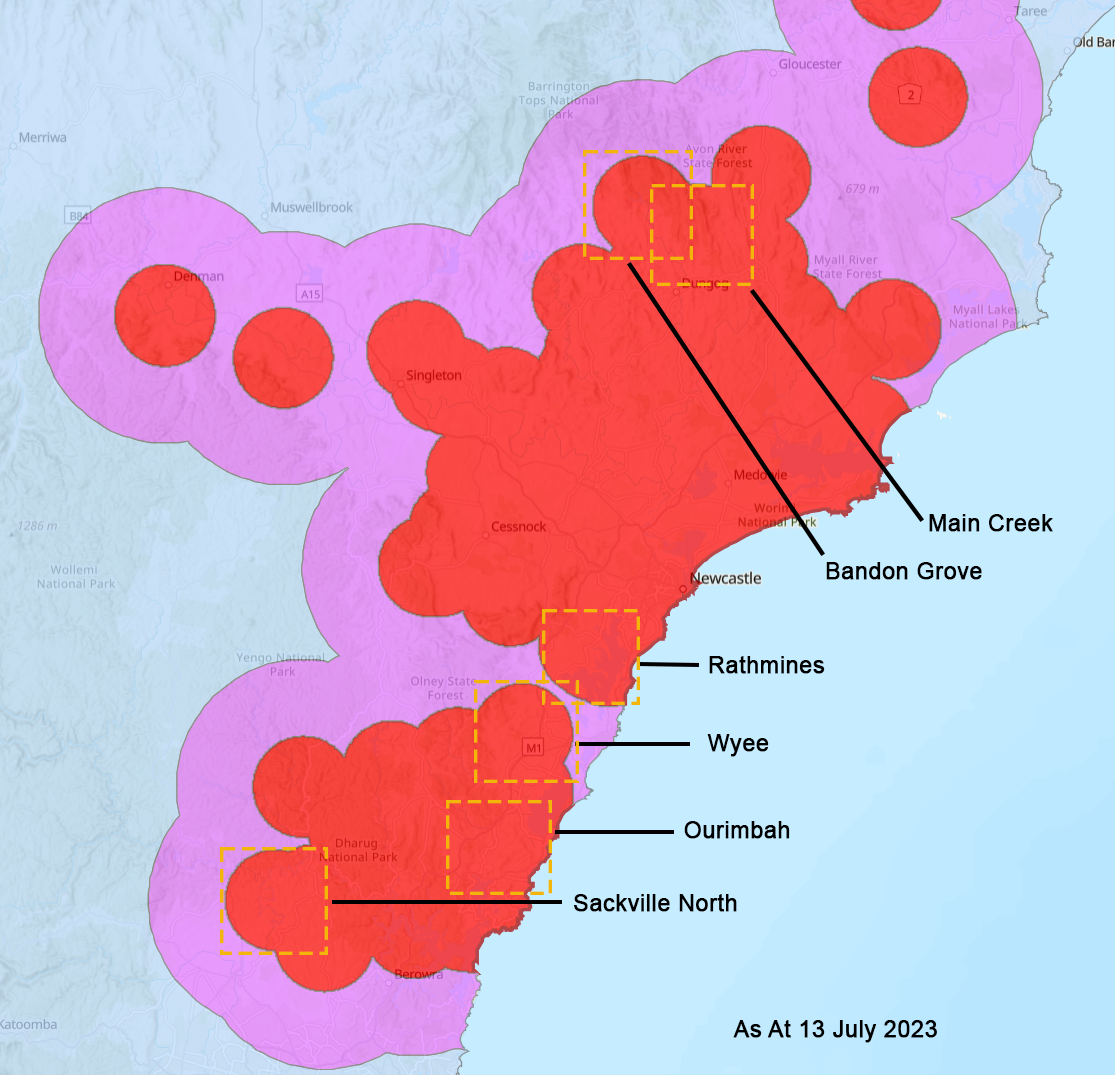 Rathmines has extended the RED zone slightly south of the Newcastle complex. Bandon Grove, Main Creek, Ourimbah do not change the zones.
Sackville North has resulted in extension of the RED and PURPLE zones to the west of the Central Coast complex. This region includes additional beekeepers and several produce growers in both RED and PURPLE zone extensions.
You can reach out to AHBIC via:
CEO
Danny LeFeurve ahbic@honeybee.org.au
0409 699 980
Varroa Coordinator
Bianca Giggins bianca@honeybee.org.au
0402 467 780