Varroa update – 50 days of eradication milestone
16 August 2022
Last week the response reached the milestone of 50 days of eradicating Varroa Destructor. Across the response there has been over 1,350 staff from many agencies including the Department of […]
Last week the response reached the milestone of 50 days of eradicating Varroa Destructor.
Across the response there has been over 1,350 staff from many agencies including the Department of Primary Industries (DPI), Rural Fire Fighting Service (RFS), Local Land Service (LLS), National Parks and Wildlife Service (NPWS) and many volunteers form the beekeeping industry.  The 1,350+ personnel have been working across 7 command centres across the state.
Over 200 volunteer beekeepers have assisted in every aspect of field operations and in the control centres. With the assistance of the volunteers there has been over 25,000 hives surveyed with 97 premises identified to have mites.
Tracing has been conducted on all known IP's and is now completed.  Many hives have been surveyed across the state because of the tracing efforts and resulted in the Trangie, Narrabri and Coffs detections.
The following maps shows the level of work that has been done across the area and the number of negative results.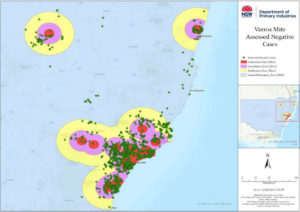 Euthanising of all IP's has nearly been completed and a 3-6km radius around the IP's is being cleared of managed colonies.  The clearing of managed colonies must occur before baiting can occur.  Once the area around the IP is clear Fipronil baiting will commence on the IP's.
The pollination event surveillance is over 50% completed, with mats being inspected in the lab at Orange Agricultural Institute with no mites found to date.
The following map shows the density of mites being found around the Newcastle zone.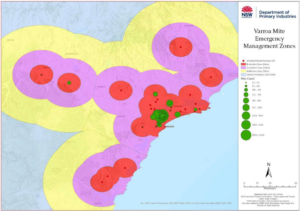 Hives that are having strips placed in them on the almonds will have honey samples taken from their supers and tested for residues.  This will provide the confidence for beekeepers wishing to extract and sell the honey from these hives that the residue is under the prescribed MRL.  Until the results of the testing is received beekeepers should separate this honey until cleared by testing.
The focus for the incident management team is on eradication and more data is produced there is a growing confidence the in the ability to eradicate the pest.  This confidence in containment has been demonstrated today by the liftin of the yellow zones.
The yellow zones were put in place to allow mandatory hive reporting and an additional buffer until the incident management team had enough confidence.  The yellow zone will revert to the same rules as the blue zone.