AHBIC Industry Update 48 – 478 days of response
13 October 2023
Varroa Treatment Availability The NSW DPI has created an emergency use permit (PER94055) for Formic Pro, Bayvarol and Apistan that has approved suppliers identified on the permit.  This means that […]
Varroa Treatment Availability
The NSW DPI has created an emergency use permit (PER94055) for Formic Pro, Bayvarol and Apistan that has approved suppliers identified on the permit.  This means that those listed on the permit are able to import and sell the listed Varroa treatments to beekeepers in NSW.  Under the same permit NSW beekeepers are legally allowed to apply those treatments to their hives as per the label conditions.  
Apivar has full Australian registration, but it will take time for the manufacturer to produce product with the Australian label.  In the interim NSW DPI has applied for an emergency use permit to allow NZ labelled Apivar to be sold through the listed suppliers. This should be approved in the coming weeks providing beekeepers access to the two most commonly used synthetic miticides.  
Varroa Treatment registrations
AHBIC and NSW DPI have been working with the APVMA and chemical companies to progress full registration of as many treatment options as possible for Australian beekeepers.  This is an extremely slow process and requires significant investment from the manufactures to achieve full Australian registration.  
An application for Bayvarol registration has been submitted and awaiting APVMA assessment.  The NSW DPI has prepared an application for Oxalic acid (Api-Bioxal) for dribbling and fogging after lobbying from AHBIC to the APVMA to consider registration.  This will be submitted soon for assessment but under current permits/registration Oxalic Acid is not permitted for use.  Availability of some approved products may be limited until product arrives on shore.  
Hive Treatments
Experiences in the NSW Central Coast area have demonstrated that Varroa mite build up can be slow. Low mite numbers detected in July 2022 to high mite numbers detected in the feral colonies in October 2023 demonstrates that Varroa built up slowly in this region. It has taken over 15 months to go from low mite numbers in the area to numbers that are causing colony collapse in the feral hives.  
Applying this observation to the greater NSW Suppression (GREEN) Zone we would expect that beekeepers may not need to be extensively treating for mites for many months. Buying enough time to roll out the activities of the transition to management, including training and establishment of the commercial supply of miticides. 
 Further observations have seen clean hives that have been introduced into the NSW Central Coast region be infested with mites at a rate of around 100 mites/week. This is in line with international experiences in the initial phase of spread highlighting that reinfestation will be an ongoing issue as both feral and managed, untreated colonies collapse. The only method to ensure hive health, will be continued hive monitoring for mite numbers and control once mites reach treatment threshold numbers.  
The table below reflects the progress to date of APVMA permits/registrations and treatment products. 
Always read the label and if the label differs to the permit conditions then follow the permit. This information is specifically relevant to NSW as Varroa has not been identified in any other jurisdiction at time of print. 
*Ensure you read the label and adhere to the Personal Protective Equipment requirements and miticide storage requirements of each product.  
**Despite being registered/permit, product availability will vary. 
 Table 1. Varroa treatment options, Australia – October 2023 NSW and ACT only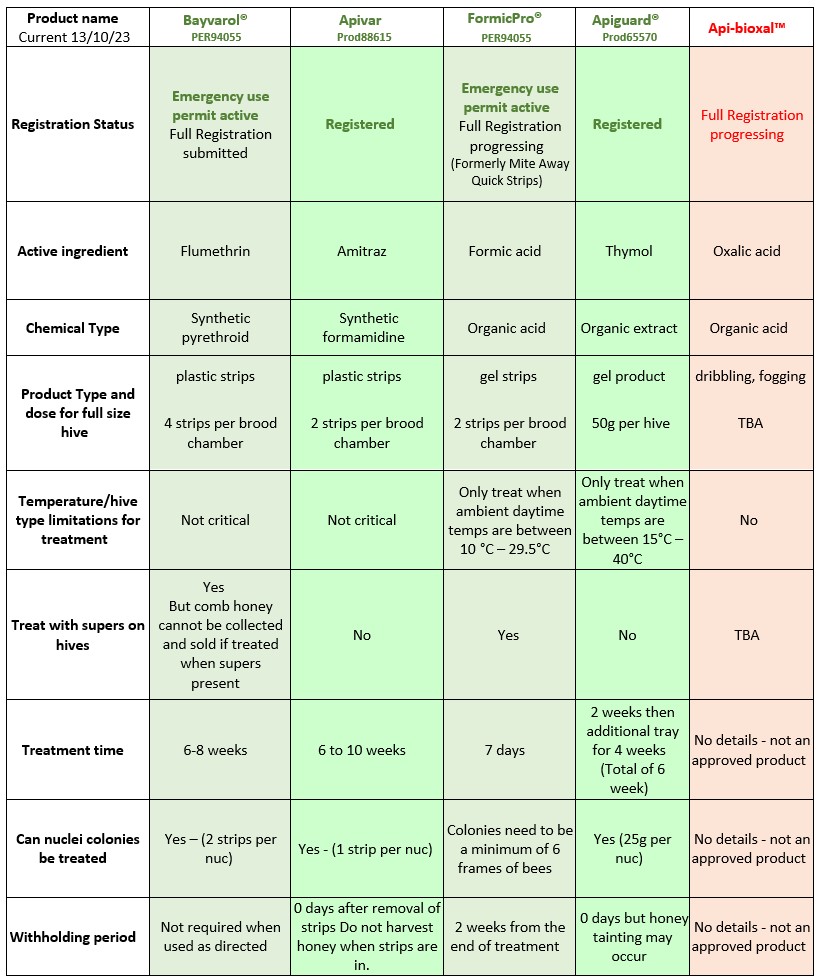 Monitor hives & Report results
Based on technical expert advice provided to AHBIC beekeepers can follow some basic treatment principles to get through the initial wave of spread. This information includes discussions regarding Varroa treatment, which are only currently permitted within NSW as no Varroa detections have occurred in other states and territories. 
      Synthetic Approach
Monitor hives regularly using alcohol wash, soapy water or sugar shake to determine mite loadings. Check out the Bee pest Blitz for detailed alcohol wash information and remember to report to your jurisdiction as required. 
If monitoring shows mite levels are at treatment threshold (Table 2) then a control method must be applied.  
If hives are on a honey flow then apply Bayvarol strips as per label/permit.  If hives are not on a honey flow and supers can be removed use Apivar strips.  Leave strips in for 6-8 weeks and remove.  
Repeat monitoring within 5 weeks post treatment.  If mites are found at threshold levels in a wash then repeat the above treatment.  If thresholds are met within 5 weeks it is likely there are high mite loadings in the local feral or managed colonies.  
     Organic Approach
Monitor hives regularly using alcohol wash, soapy water or sugar shake to determine mite loadings. Check out the Bee pest Blitz for detailed alcohol wash information and remember to report to your jurisdiction as required. 
If monitoring shows mite levels are at treatment threshold (Table 2) then a control method must be applied.  
Use either Apiguard or Formic pro for either 6 weeks (Apiguard) or 7 days (Formic Pro) and remove.  
It is critical that mite monitoring occurs as soon as practicable to determine efficacy of treatment. If mite counts are low then continue with regular monitoring until mites reach threshold and then repeat treatment.  
*Organic treatments are an option for beekeepers but are less reliable and provide a shorter window of protection against re-infestation, require a higher level of monitoring, and have temperature limitations. 
Table 2. Treatment thresholds depending on colony phase/season and # of Varroa found per hive in an alcohol wash, soapy water wash, or sugar shake (adapted from NSW DPI Factsheet: Varroa mite management options for NSW.)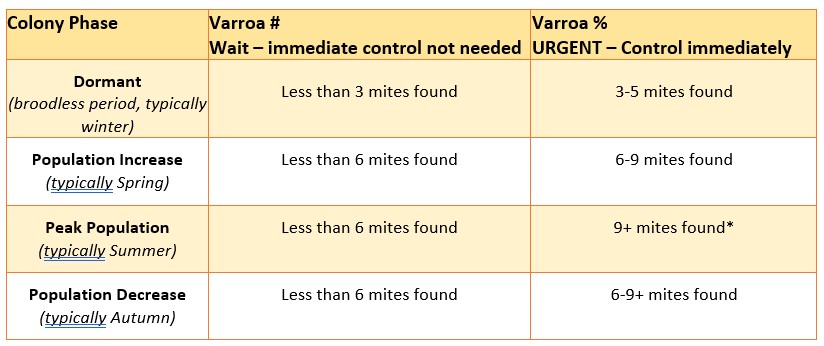 NSW Hive Euthanasia 
 If you have hives in a former NSW RED zone which have not yet been euthanised and you would like to opt-in to have your hives euthanised by NSW DPI and apply to receive ORC, please contact NSW DPI on  
1800 084 881 prior to 25 October 2023, and formalise the process with the NSW DPI staff.  
 Requests to opt-in to voluntary hive euthanasia received after 25 October may not receive ORC. 
The ORC program will not be extended into 2024. 
 Beekeepers who opt to retain their hives and treat with miticide strips are ineligible to claim ORCs. 
AHBIC Industry Briefing Webinar 
Varroa mite Emergency Response – Transition to Management Industry Update. 
Register here:  
https://www.eventbrite.com.au/e/varroa-mite-emergency-response-transition-to-management-industry-update-tickets-736936385567?aff=oddtdtcreator 
When: Thursday 19 October, 7pm – 8:00pm EST 
Where: Zoom event – link will be provided following registration 
 AHBIC will provide an update on the developing approach for the transition to management of Varroa mite. The webinar will be hosted by AHBIC with presentations from AHBIC CEO Danny Le Feurve, key members of the response team from the NSW Department of Primary Industries (NSW DPI) and a presentation from Agriculture Victoria. 
This is a free event open to interested members of the honeybee industry and wider community across Australia. Please register for the briefing. 
AHBIC, its employees, executive and consultants expressly disclaim all and any liability to any person in respect of anything, and the consequences of anything, done or omitted to be done in reliance, whether wholly, partly, upon the whole or any part of the contents of this industry update document. 
You can reach out to AHBIC via:
Varroa Coordinator
Bianca Giggins
0402 467 780